It is becoming increasingly difficult to provide orders' best execution performance on financial markets in consideration of:
the specific requirements of the business areas, e.g. agency trading, principal trading, riskless principal trading;
the characteristics and needs of the different types of order flows, e.g. retail orders, institutional orders or flows from portfolio managers;
the specific functional and operational requirements for different asset classes, e.g. liquid or non-liquid shares, liquid or non-liquid bonds, derivatives, commodities, Forex.
Execution on electronic markets and OTC, with the need to improve prices through hidden liquidity, is furthermore complicated by the clients' demand for transparent reporting and the need to adapt to a continuously changing market space and to evolve quickly in order to capture new business opportunities.
Caronte Trading System: CAD IT's value proposition
Caronte Trading System is:
a complete solution for both the buy side and the sell side through which any asset class can be negotiated directly on the exchange, through brokers or OTC, with integrated modules to manage portfolios, risk, trading, order management, order routing, execution and allocation;
a liquidity management system that contains automatic quotation engines, an engine for internalisation and a powerful Dynamic Best Execution engine to support articulate business strategies;
a completely integrated solution that, in one single system, manages the specific requirements of different business areas considering the characteristics of different order types for all asset classes.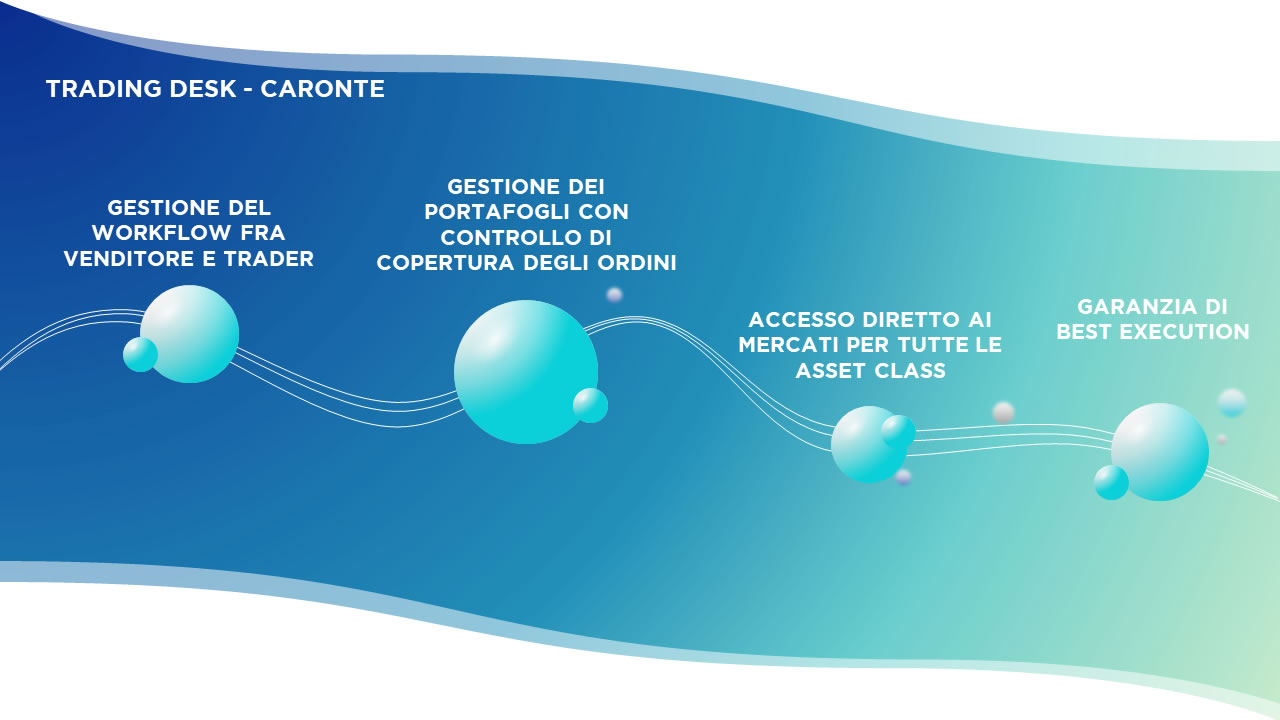 Salient features
Caronte Trading System:
offers complete functional coverage for low touch order flows, care orders, smart order routing, OTC trading and market making;
leads to increase your business with the fast addition of new clients, new order collecting channels, new markets and new products or asset classes;
enables supervisors and auditors to easily control all automatic order flows and the manual trading activity for all asset classes in one single application;
is perfectly integrated in your overall architecture providing real time interfaces to markets, circuits, brokers and all post trade systems.
Caronte Trading System is a solution developed by EliData, a CAD IT Group company.