The constantly evolving Corporate Action area is one of the most risk prone processes in the securities industry and it is still to a large degree managed manually.
The risks linked to human activity are worsened by the mishandling of information received from multiple parties, the lack of standards across markets, the need to accurately and punctually inform all the parties concerned: clients, custodians, sub-custodians, intermediaries.
The scenario is further complicated by market evolution and its growing complexity, in terms of volumes and the generation of sophisticated events.
Easy Action: the CAD IT's value proposition
CAD IT's Easy Action is a new generation, comprehensive platform for the controlled end-to-end management of corporate actions and income (more than 50 events types managed).
Easy Action is designed around the user experience of thousands of experts across 300 financial institutions who contribute every day to improving the solution thus providing the opportunity of making it increasingly simple and straight forward.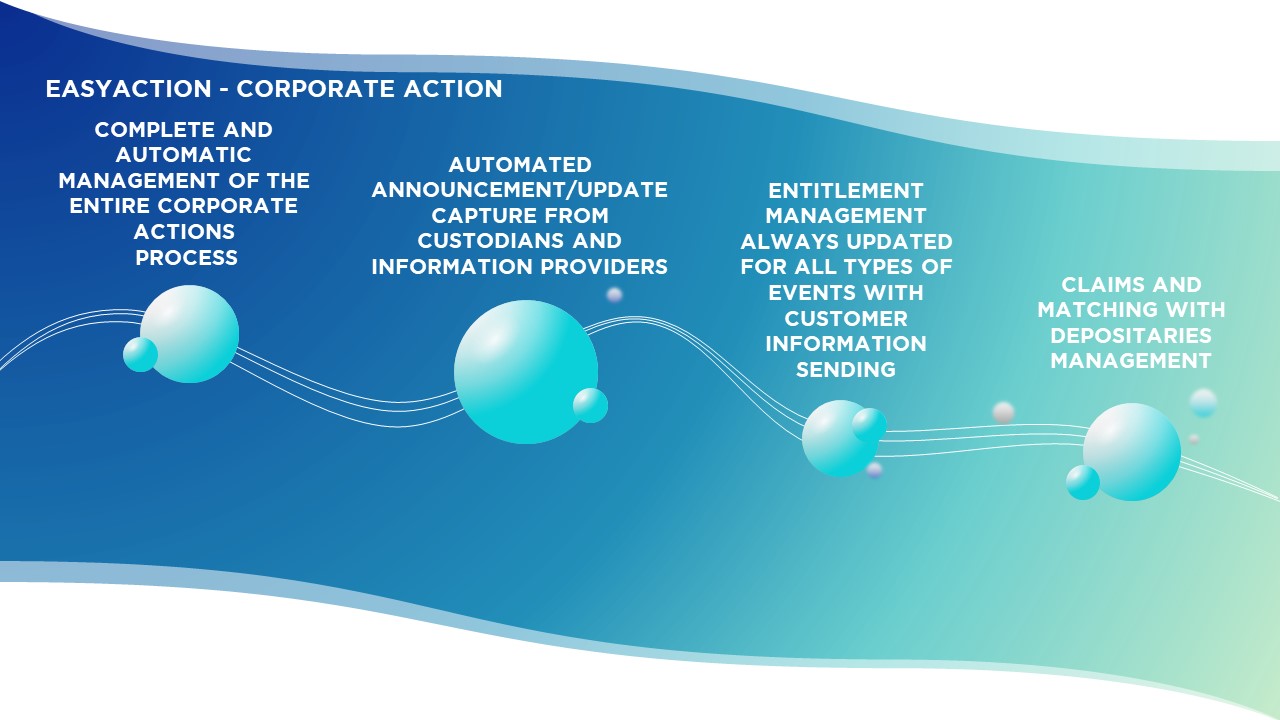 Salient features
Highly configurable and modular toolset.
Fully automated announcement / update capture from custodians and information providers via ISO 15022 and bespoke messaging, with ability to manage event information within secure audit trail.
Flexible diary management for all event types with calendar and configurable workflow incorporating alerts, authorizations and escalations according to impact of event (volume / value).
Automatic entitlement calculation with continuous maintenance of position data.
Collection and confirmation of client instructions (incl. MT565) with reconciliation of client elections with custodians.
Event execution via automated interfacing to stock and payment systems.
Precise reporting and clear presentation including manager and supervisor dashboards with drill-down ability delivered multi-channel.