The management of an investment firm's data flows related to Order and Execution Management and Position Keeping processes is a very complex activity due to the existence of many different systems:
specialized for process areas, e.g. back office, front office, risk management, general ledger;
specialized for business areas, e.g. agency trading, principal trading, market making;
specialized for asset class, e.g.: equities, bonds, listed derivatives, OTC derivatives, Forex.
The difficulty in guaranteeing consolidated data that is coherent between all systems and the different financial markets is furthermore complicated by the need for real time alignment combining different data processing speeds.
Caronte: CAD IT's value proposition
Caronte is:
a powerful and flexible financial middleware that connects all the investment firm's systems to each other and to the markets and keeps them aligned;
a complete order routing system able to receive all types of electronic flow and send them to the markets, brokers or trading circuits on the basis of articulated rules;
a complete management and control system of all the order routing channels for messages to and from the execution points.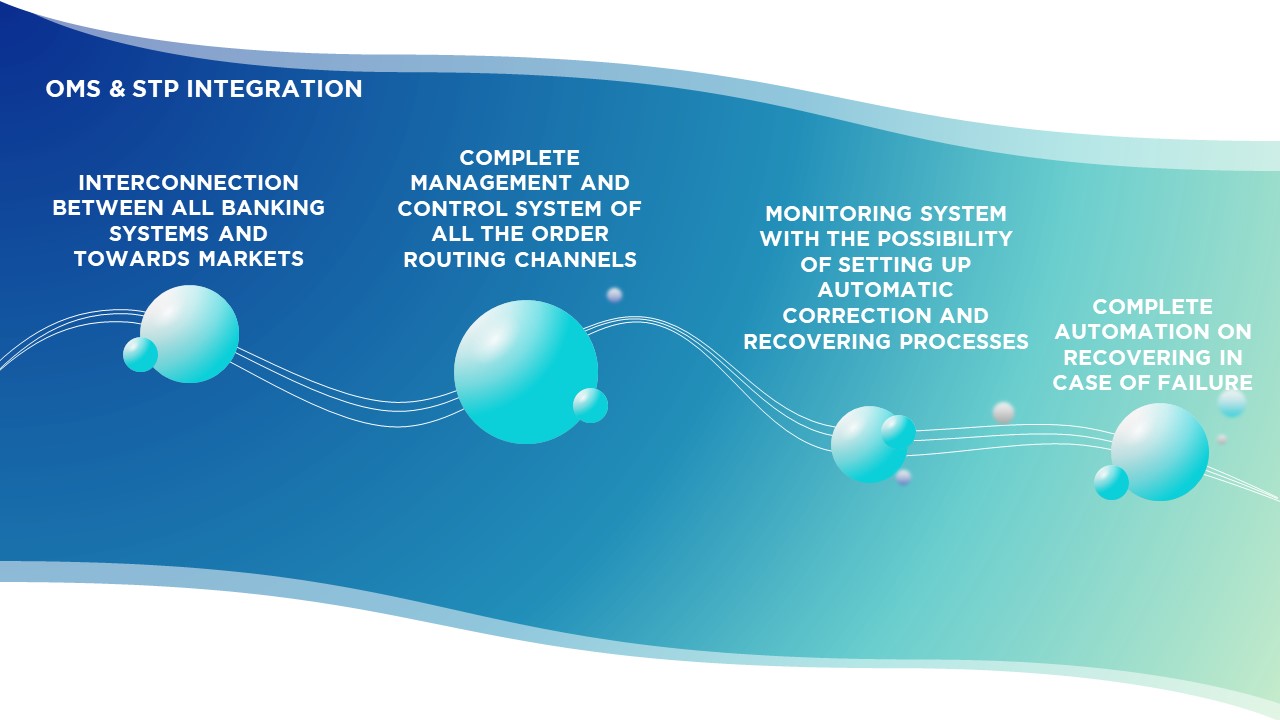 Salient features
Captures, normalises and distributes information and data related to static instrument data, market feed and orders for all asset classes and completely eliminates manual retyping of said data onto different systems.
Connects to international markets, brokers, circuits, Front and Back Office systems, Risk Management, Position Keeping in order to keep them aligned and reduce operation risk with full Real-Time integration between all systems.
It 's a system for order routing and market connectivity that, with its parametric rules, makes it possible to manage every type of order related to all asset classes depending on the various collection channels, customers, markets, brokers and trading circuits.
Automates all order management processes, maximising the STP level. Furthermore, continuous alignment of connected internal systems and markets allows you to punctually manage processes and the workflow situation.
Supports trading on exchanges as well as OTC operations and has multiple interfaces for order collection and routing.
It's a rule based system that enables the initial installation and later extensions to new markets in extremely short time and achieves quicker Time-To-Market (TTM) for new instruments.
It' s easy to configure: the entire message workflow can be configured in such a way as to ensure that all the connected systems receive the necessary data correctly and in the established sequence.
Has a powerful monitoring system that can capture and signal data processing errors, with the possibility of setting up automatic correction and recovering processes, like, for example, resending data or re-synchronising the systems.
Ensures complete automation of system recovery in case of failure.
Caronte is a solution developed by EliData, a CAD IT Group company.